The Distillers
One of One

Auction
2023 Founder Lots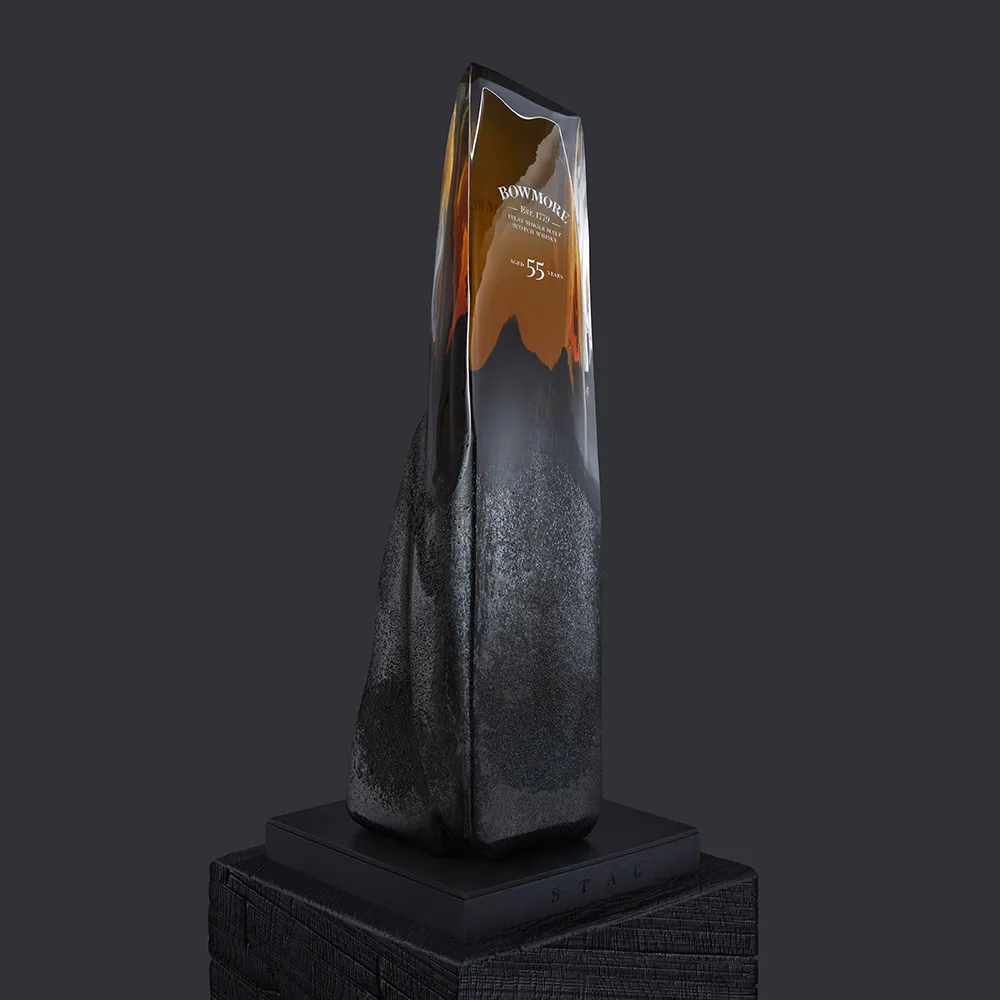 Beam Suntory
Bowmore STAC
At 55 years old, Bowmore STAC is the oldest whisky ever released by the distillery, bottled at 41.0% abv. Alongside the bottle itself is a 10cl sample of the liquid for the winning bidder.
Showcasing over half a century of exquisite and skilled maturation, this single malt truly demonstrates how Bowmore spirit ages like no other. Distilled in 1962 and filled into a refill American oak hogshead, this rare single malt captures over five decades of expressive character.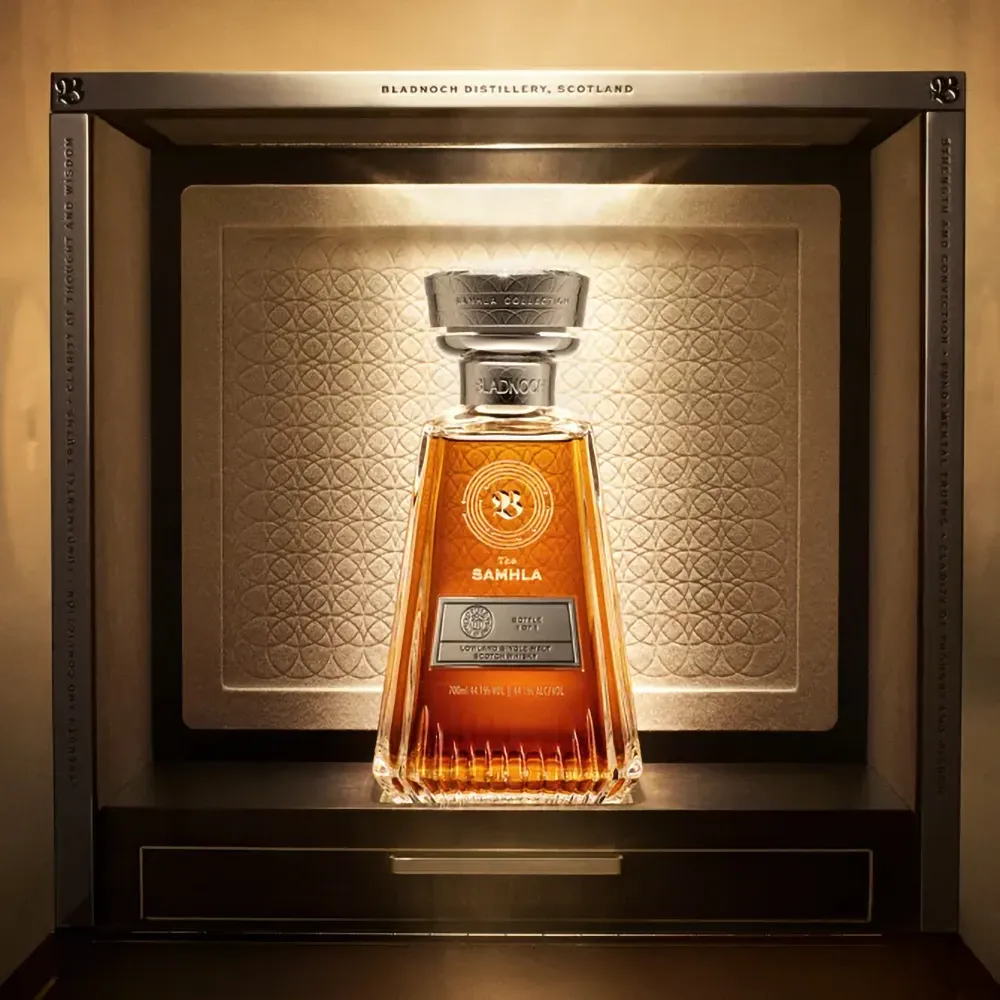 Bladnoch
The Samhla
A unique whisky that joins the past, present and future of Bladnoch Distillery together.
The Samhla Collection of three whiskies was released in 2023 to showcase the connections between generations. All three whiskies were built to both celebrate the treasure chest of rich stocks at Bladnoch and embody its heritage.
Samhla means 'symbol' or 'likeness' in Scots Gaelic.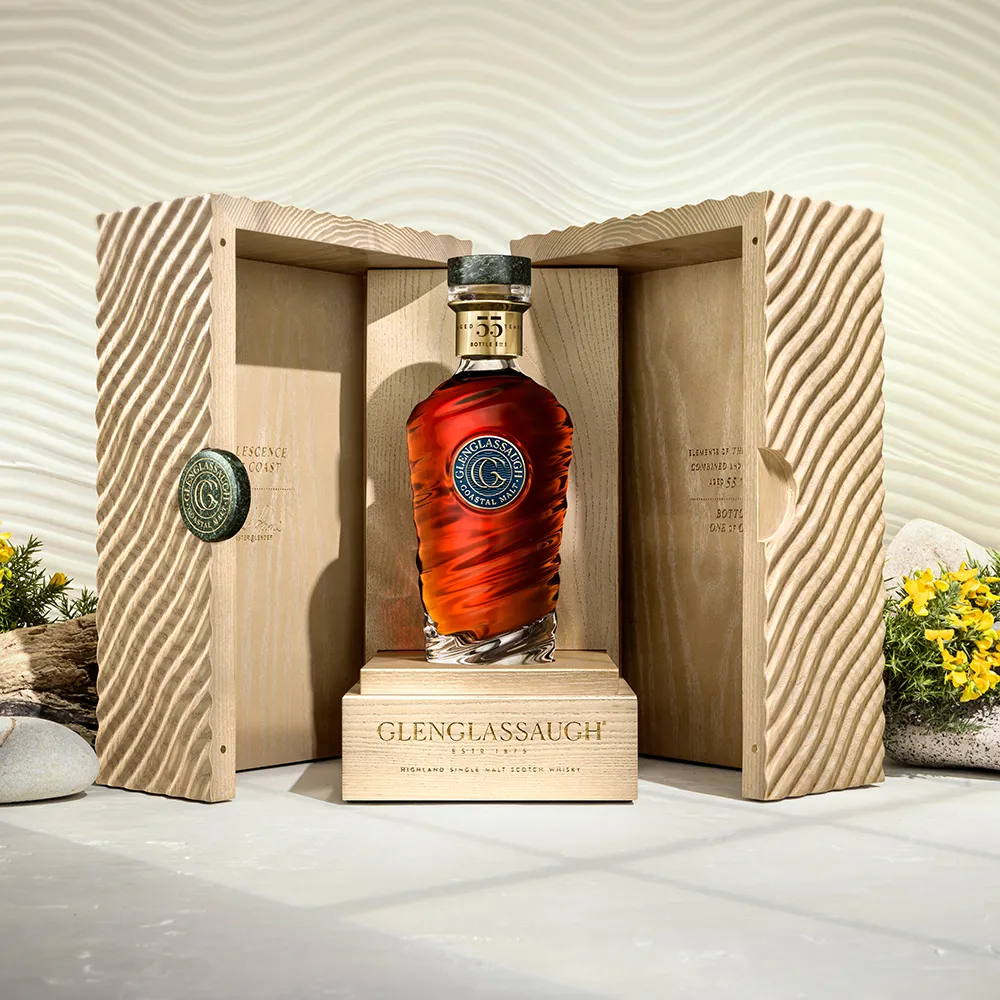 Brown-Forman
Glenglassaugh
The Glenglassaugh Coalescence of the Coast 55 Year Old is a one-of-a-kind expression which celebrates the extraordinary character of Glenglassaugh after decades of coastal maturation.
Master Blender Rachel Barrie has crafted this one-of-a-kind bottle from rare individual casks of Glenglassaugh filled in 1963, 1965 and 1967. Bottled at 40.8% abv, the coalescence of these casks in this fifty-five year old expression creates a multifaceted sensory experience, with both complexity and beautiful balance.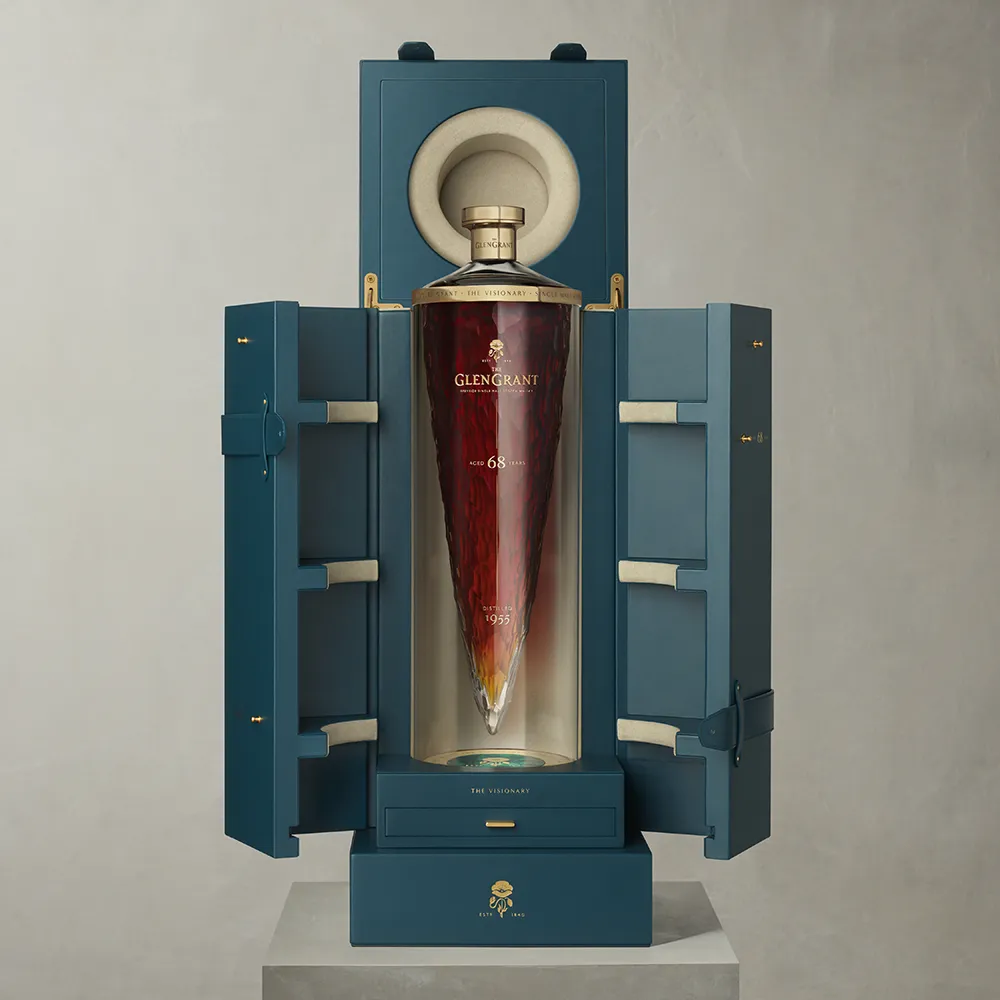 Campari (The Glen Grant)
Glen Grant
The Glen Grant The Visionary is an exceptional one-of-a-kind creation. This rare single malt is aged 68 years and is one of the oldest whiskies to be released by the distillery.
This true one of a kind is amongst the oldest and rarest whiskies to be released by The Glen Grant distillery and is presented in a singular hand blown battuto-cut magnum decanter. The innovative design captures the suspension of the spirit within the glass structure as if it was itself a rare plant or flower. A precious stone Malachite stopper and base reflect the influence of copper, celebrating the tall stills which have shaped the spirit.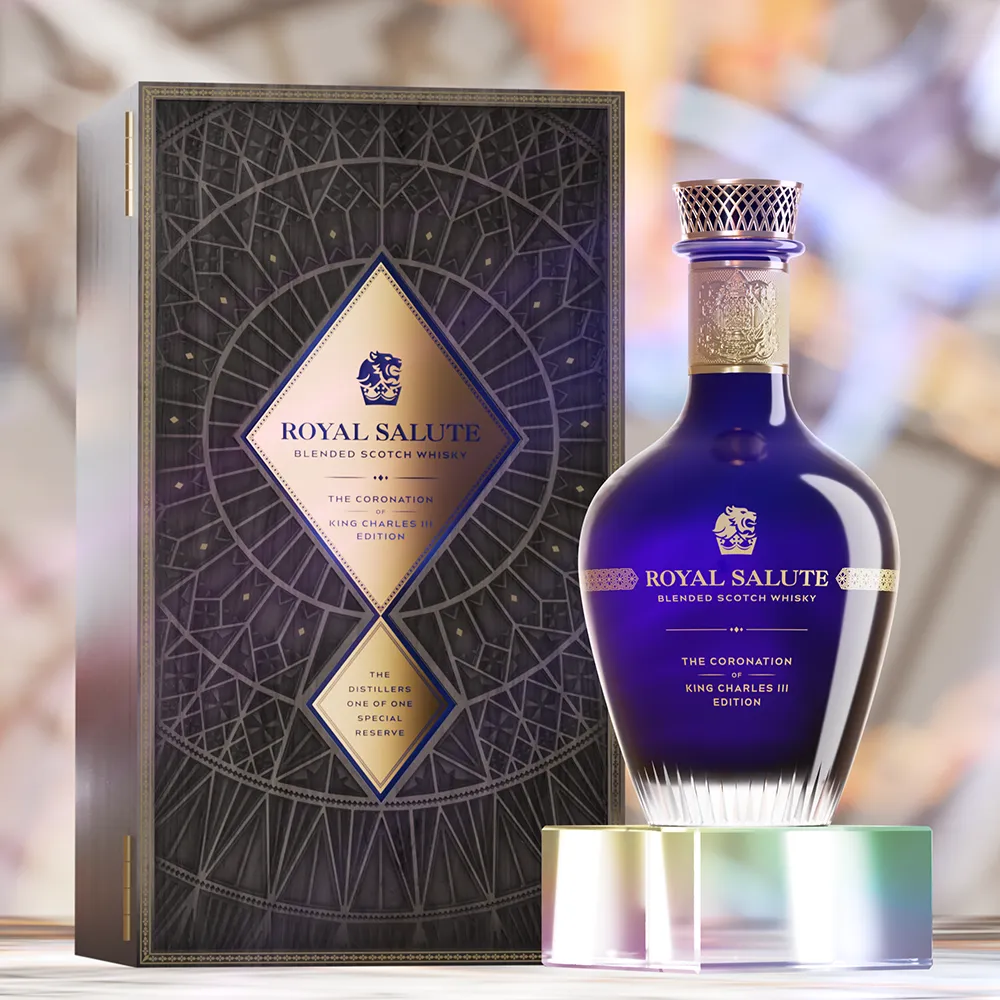 Chivas Brothers (Pernod Ricard)
Royal Salute
Pernod Ricard is offering a unique and never to be repeated special reserve which is not commercially available: Royal Salute The Coronation of King Charles III Edition – Distillers One of One Special Reserve.
The blend is a combination of over 53 exceptional Scotch whiskies and features some very rare liquid from the Royal Salute 1962 Reserve Cask, expertly crafted by Royal Salute Master Blender, Sandy Hyslop. The coveted expression is housed in a Dartington Crystal decanter, tinted in a deep sapphire blue hue, reminiscent of the precious stones set within the Imperial State Crown.
Diageo
Brora Iris
Brora Iris is an historic 50 Year Old Single Malt Scotch Whisky within a 1.5 litre decanter and suspended within an imposing one-of-a-kind handcrafted stone sculpture. This ultra-rare spirit, crafted by distillers at Brora five decades ago, is the oldest Brora single malt that has ever been bottled and will never be made commercially available.
The stunning work of art represents the eye of a Scottish Wildcat; the highly elusive native of the Scottish Highlands that is the emblem of Brora Distillery. The Brora Iris consists of a 1.5 litre decanter representing the wildcat's iris, while the stone sculpture has been hewn from the same limestone that was used to build Brora Distillery.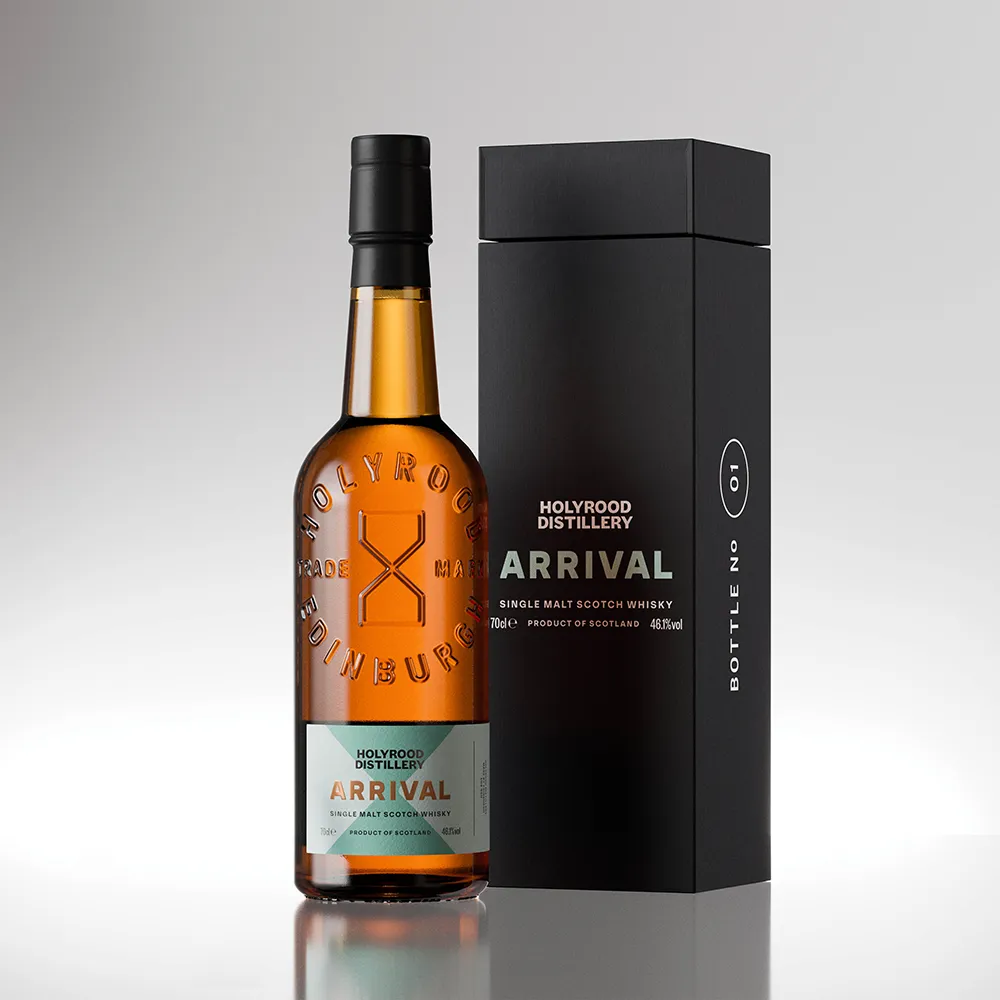 Holyrood Distillery
Arrival
The first ever bottle of Holyrood Distillery's inaugural release, bottled at 46.1% abv, which includes a bespoke label and box that is only included in the One of One Auction.
Inspired by Edinburgh's rich brewing and distilling heritage, the inaugural release brings sweet and spice together, while surprising with the smoothness of a young whisky. On the palate, sweet; prominent spice; digestive biscuits followed by that juicy raisin, while finishing with vanilla, and hints of rum.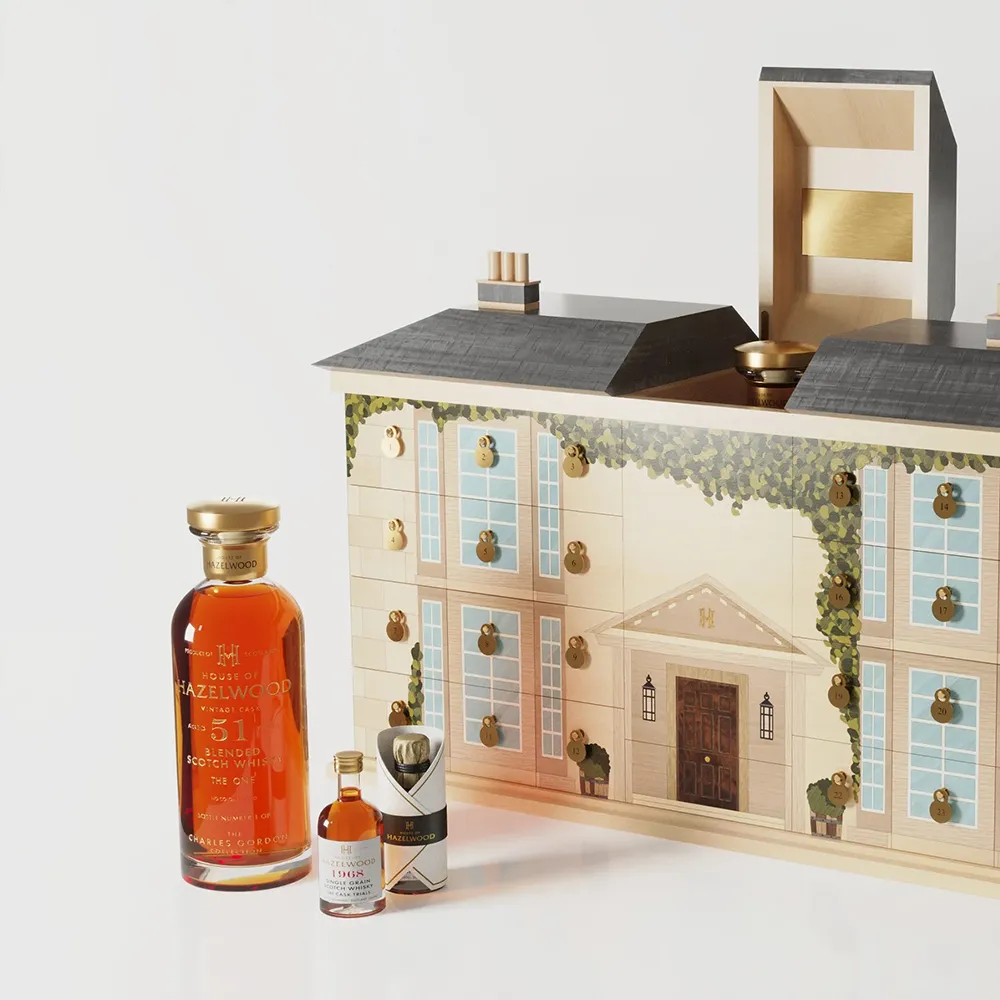 House of Hazelwood
Christmas at Hazelwood
Inspired by the Gordon family's ancestral home and hand-crafted in sycamore, walnut and brass by the renowned Linley Design consultancy, House of Hazelwood presents 'Christmas at Hazelwood'– a unique architectural box in the form of an Advent Calendar.
The box contains a 5cl measure of every House of Hazelwood whisky released to date behind 24 numbered advent doors, alongside a full 70cl bottle of a unique 51 year-old sherry cask matured blend, said to be the perfect whisky to be opened and shared on Christmas Day.
The rare whiskies held behind the advent doors include the very first drops of whisky to run off the stills at Girvan distillery.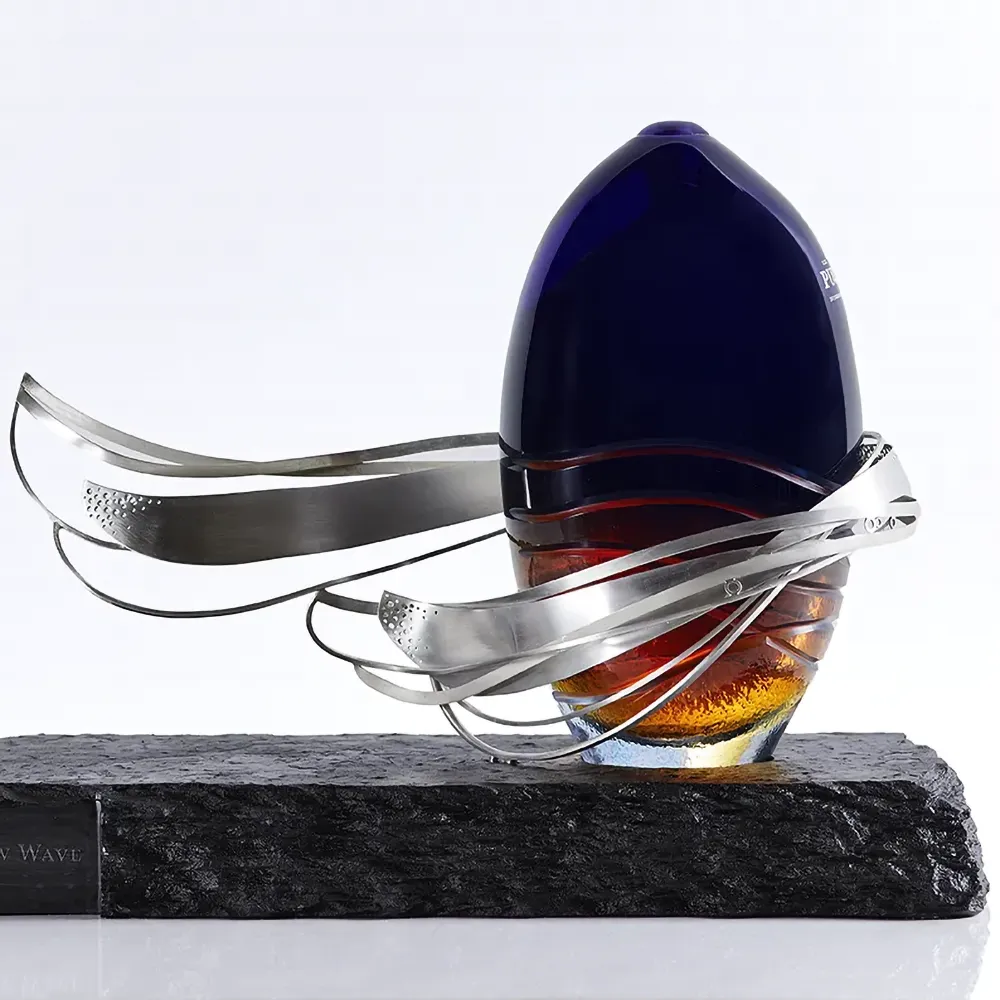 International Beverage
Old Pulteney Bow Wave
A never-to-be-repeated masterpiece, Old Pulteney Bow Wave 45 Year Old is the oldest expression released to date from Old Pulteney Distillery.
Crafted with rarity at its core, Old Pulteney Bow Wave has carefully matured for more than four decades within hand-selected American oak casks before completing its voyage with a further five years maturation inside a single first-fill Spanish oak butt. Emerging deep golden in colour, Bow Wave has maritime flavours imparted from the northern sea air that laps the distillery found on the Caithness Coast in the Scottish Highlands.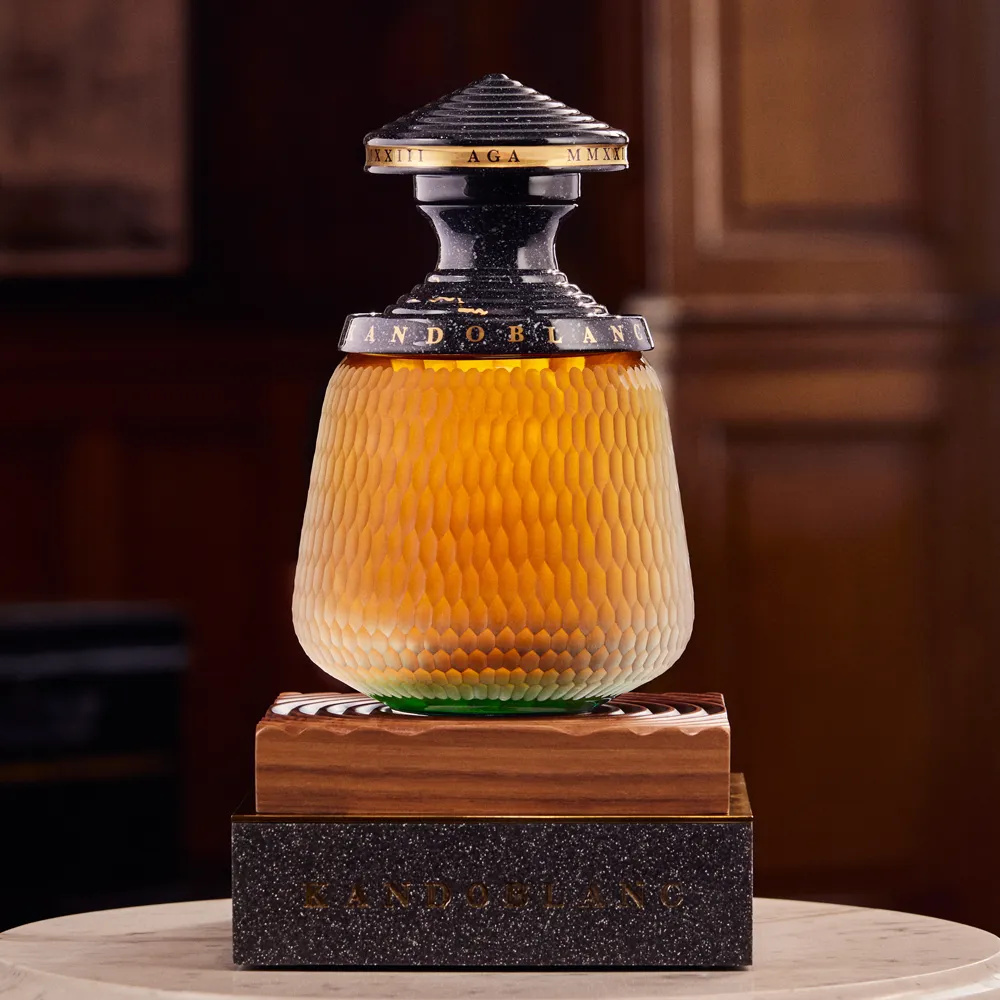 KANDOBLANC
KANDOBLANC AGA
AGA, by KANDOBLANC is a celebration of duality. Nestled within the exquisite vessel inspired by Japanese aesthetics and Italian craftsmanship, contrasting rare Scotch whiskies are woven to create a one-of-a-kind composition.
KANDOBLANC Founder Dhavall Gandhi has chosen The Distillers One of One auction, a globally recognised platform, for unveiling the first extraordinary object, AGA. Named after the founder's son and is synonymous with 'Mountain' in the ancient Indian texts of Ayurveda, AGA is an inspired celebration of duality. It is an object dedicated to elevating the confluence of art, design & culture.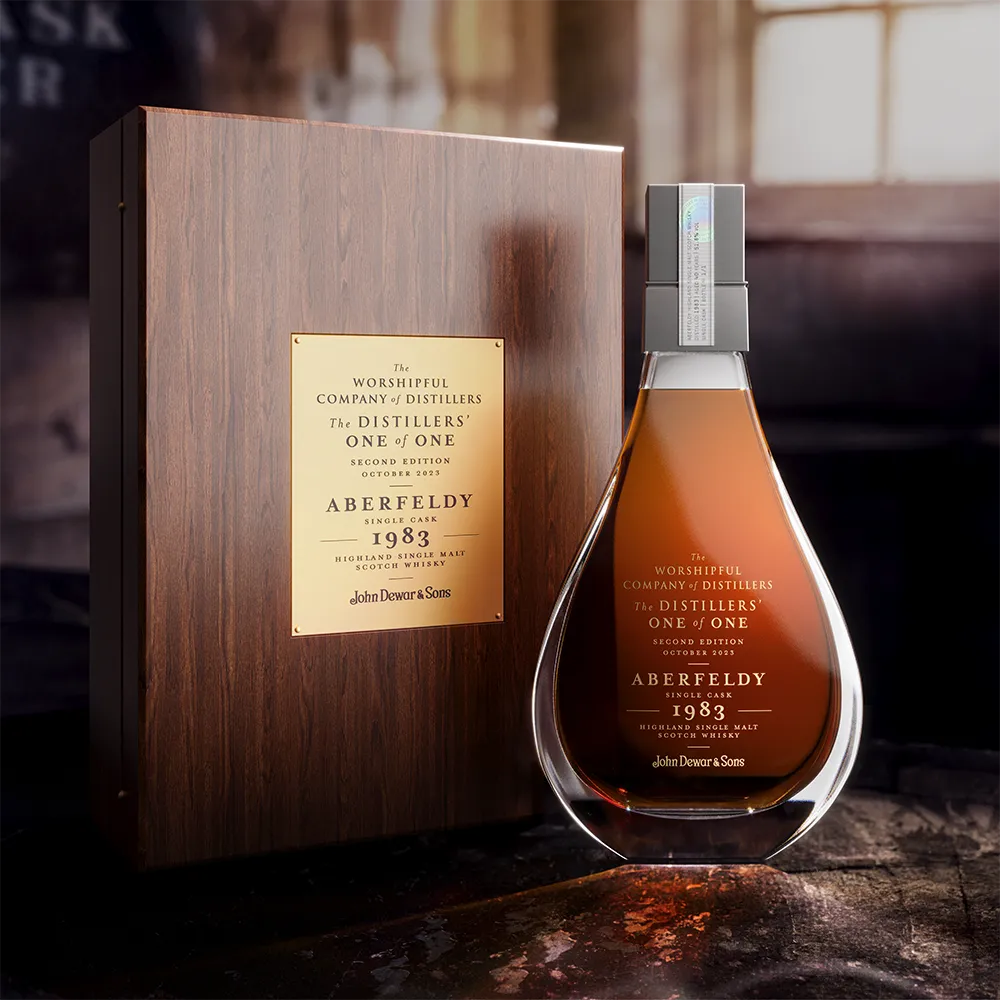 John Dewar & Sons
Aberfeldy 39 Years Old
This Aberfeldy 39 Years Old is an exquisite single malt. Distilled on 6th December 1983 and drawn from single refill cask #1, the whisky was bottled at 51.8% abv.
This precious liquid has been encased in a beautiful bespoke Crystal Carafe created exclusively for the auction, handmade in France by one of the most prestigious crystal glass makers in the world, La Cristallerie Royale de Saint-Louis.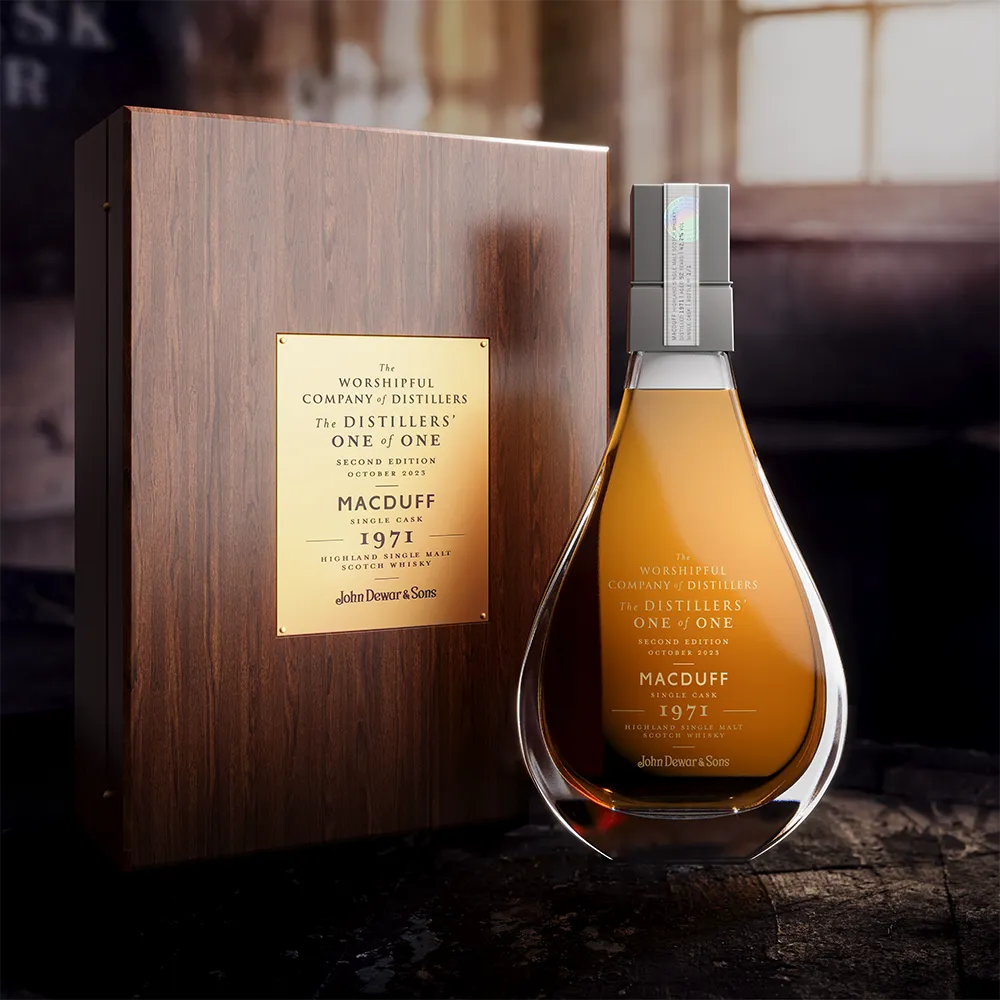 John Dewar & Sons
MACDUFF 52 Years Old
This Macduff 52 Year Old was drawn from cask #2053 and is the only second known release, direct from the distillery under its own name, 'Macduff'.
The whisky was distilled on 23rd April 1971 and laid down in a single Hogshead cask before bottling at 42.2% abv.
This venerable liquid has been encased in a beautiful and sophisticated bespoke Crystal Carafe created exclusively for the auction, handmade in France by one of the most prestigious crystal glass makers in the world, La Cristallerie Royale de Saint-Louis.
The Glenturret
Enduring Spirit
Master Whisky Maker Bob Dalgarno has created four unique whiskies to celebrate a century of The Glenturret's existence. The liquid is contained within Lalique crystal decanters and housed in a handmade, Method Studio trunk.
#1: Cask #341, distilled in 1986, bottled in 2023 at 36 Years Old
#2: Cask #190001, distilled in 1978, bottled in 2023 at 44 Years Old
#3: Cask #190006, distilled in 1990, bottled in 2023 at 32 Years Old
#4: Cask #190014, distilled in 1998, bottled in 2023 at 25 Years Old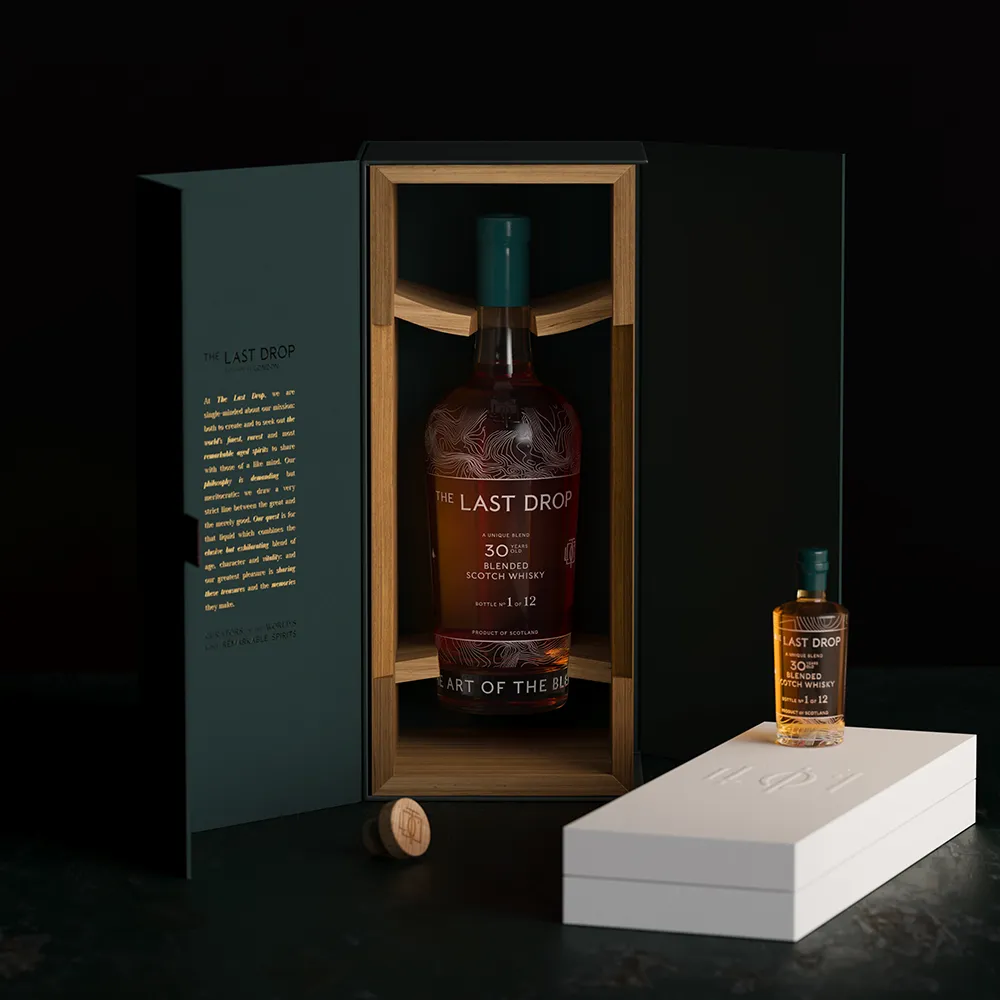 The Last Drop Distillers
Bespoke Blending Experience
Join Colin Scott, Master Blender for The Last Drop, and previously Master Blender for Chivas Bros, for a unique and personal blending experience at the original seat of the Kings of Scotland, Scone Palace, where the winning bidder will create their own unique Aged, Blended Scotch Whisky.
The Last Drop will draw samples from their inventory of maturing casks of single grains, single malts and aged blends from across Scotland, with ages of between 30 and 50+ years. The winning bidder will spend an afternoon with Colin, tasting and blending the samples until they've created their own perfect blend.
View all the lots on Sothebys.com
The Distillers
One of One
The Distillers' Charity hosted its second biennial One of One Auction, in partnership with Sotheby's, in the stately Hopetoun House near Edinburgh on Thursday 5 October. Comprising a selection of ultra-rare Scotch whiskies, the 39-lot sale – which attracted lively bidding in the room and fierce bidding online – was attended by some 200 guests from across the globe, and brought an outstanding total of £2,248,750 / $2,715,815, more than double the pre-sale low estimate. Hammer proceeds of £1.8 million from the 2023 auction will primarily benefit The Distillers' Charity's Youth Action Fund, which aims to transform the lives of young people in Scotland aged between 16 and 25, by helping them to develop knowledge, confidence, resilience, and skills.
The Youth Action Fund – established by The Distillers' Charity, with the support of Inspiring Scotland, as a vehicle to distribute funds from the One of One Auctions – has assembled a panel of complementary charity partners, each providing expertise and experience in achieving sustainable employability outcomes for young people from disadvantaged backgrounds. The 2021 & 2023 Distillers One of One Auctions have raised a combined total of £4.2m for charity.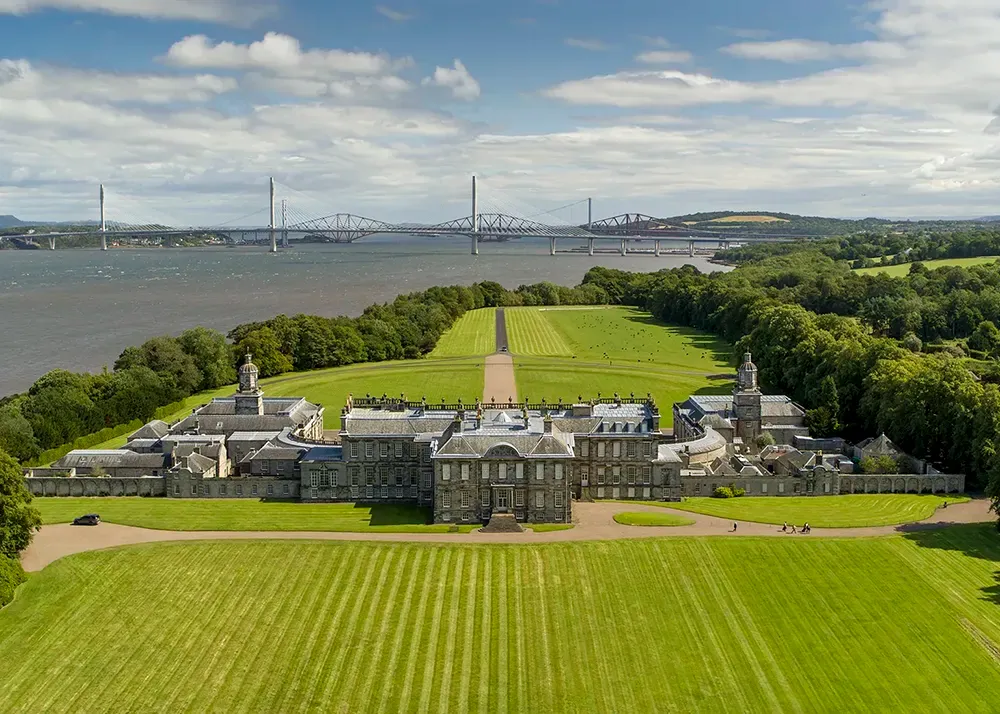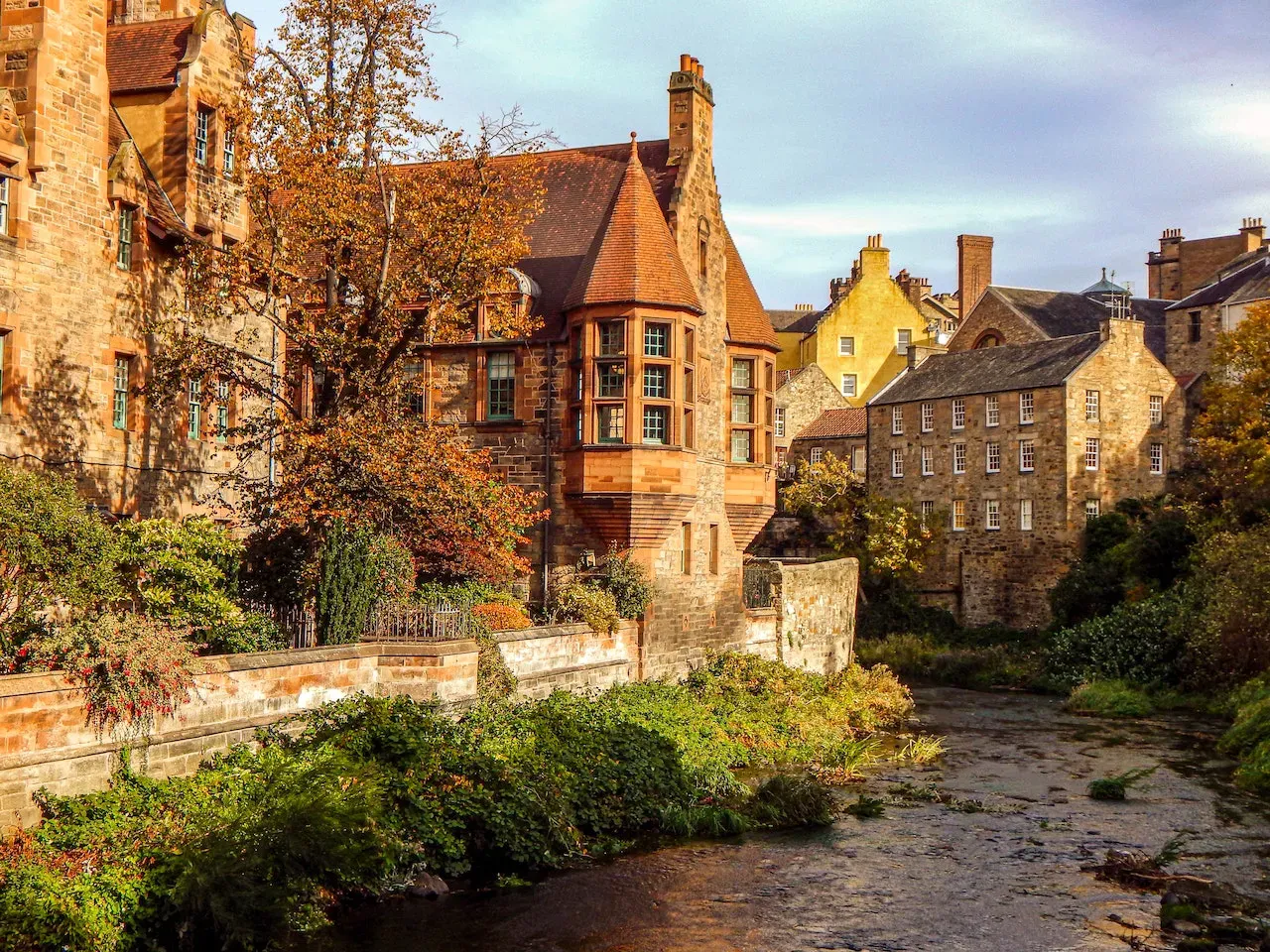 Our Donors
The Worshipful Company of Distillers have galvanized whisky brands, both new and old, from every region of Scotland to present exceptional whiskies with incredible creativity, all in the name of charity.
In addition to the generous bottles, casks and experiences donated for this sale, these brands also gave further support to make this event possible. The donor brands each fall into one of three tiers - Founders, Members and Associates.
Founders
John Dewar & Sons
Bladnoch
Bowmore
Brown-Forman
Campari Group (The Glen Grant)
Diageo
Holyrood
International Beverage
KANDOBLANC
Pernod Ricard
The Glenturret
The Last Drop Distillers
William Grant & Sons
Members
Arbikie
Arran
Bruichladdich
Gordon & Macphail
Isle of Raasay
Kilchoman
Loch Lomond
Morrison Scotch Whisky Distillers
The Borders Distillery
The Glenmorangie Company
The Scotch Malt Whisky Society
Tomatin
Associates
Ardnamurchan
Berry Brothers & Rudd
Coachbuilt
Duncan Taylor
Glenfarclas
Glen Moray
Greenwood
Ian Macleod Distillers
Lindores Abbey
That Boutique-y Whisky Company
Whyte & Mackay
Our 2023 Sponsors
We are immensely grateful to the following companies from the ancillary services to the Scotch Whisky Industry for sponsoring The Distillers One of One Auction 2023.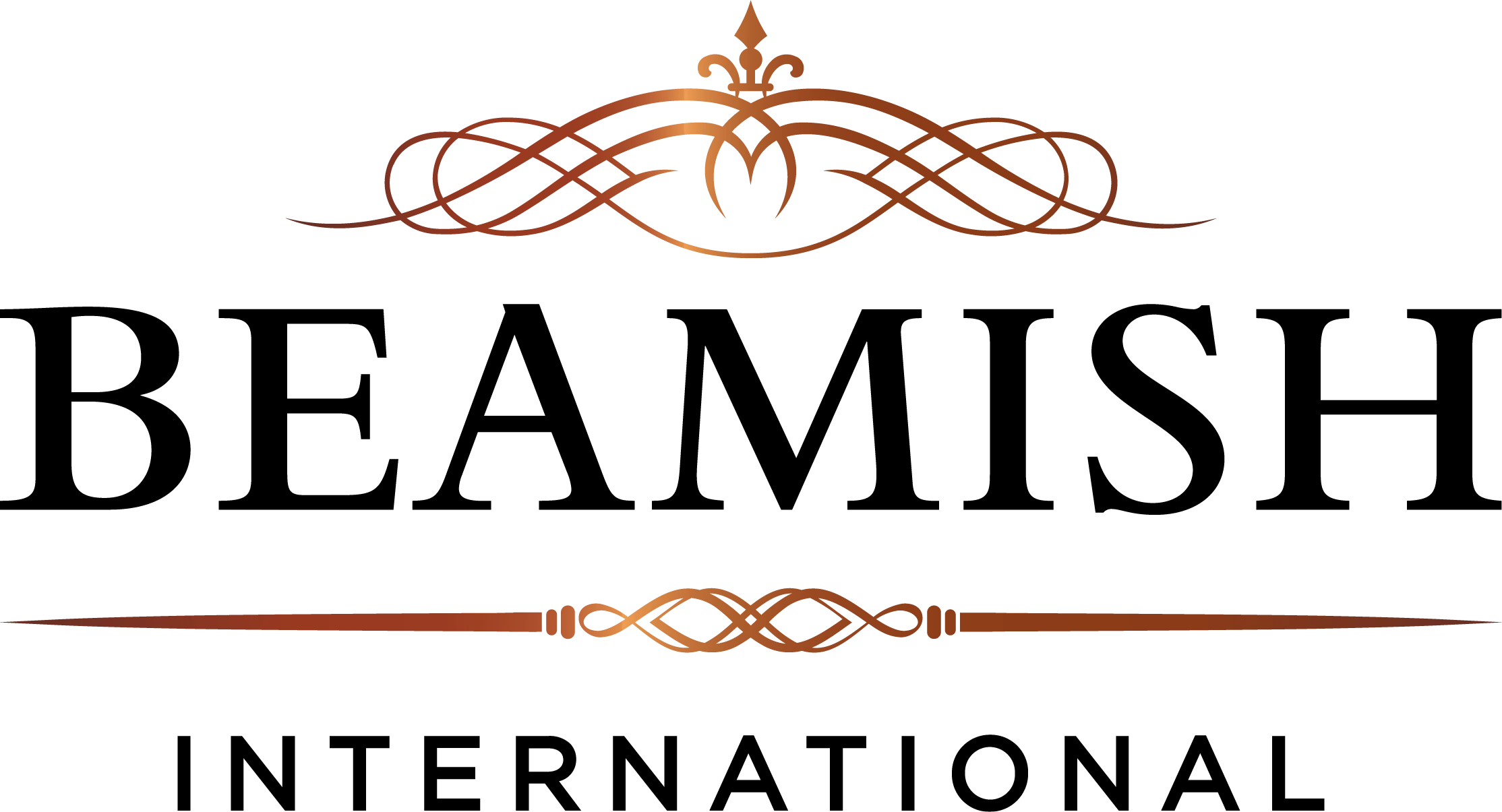 Beamish International
Beamish International is a global whisky private office, providing direct-to-distillery advice, assurance and access to the world's most coveted Scotch Whisky stocks for collecting, drinking and gifting. Over the years, we have built a global reputation for our knowledge, expertise and advisory services at the highest end of the rare whisky market.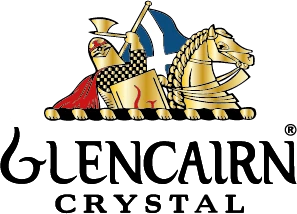 Glencairn Crystal
Glencairn Crystal Studio is a family business based in Scotland celebrating its 40th anniversary this year. We are the world experts in the design, creation and supply of crystal and glass containers for super premium spirits and the company behind the world's favourite whisky glass: the Glencairn Glass.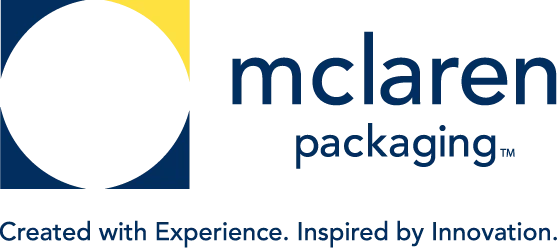 McLaren Packaging
McLaren Packaging specialise in the design and manufacture of premium, paper-based packaging for the Scotch whisky industry. Employing approximately 260 people across 6 sites in Central Scotland, our goal is to deliver a sustainable business that has minimal impact on the environment and a positive impact on the communities that we operate in.

Forsyths
Forsyths is one of the world leaders in the supply of distillation equipment. The art and craft of their skilled coppersmiths remain vital to the production of the equipment. Forsyths' experience in distillation is now recognised on a worldwide basis. Many spirit-based drinks around the globe owe their unique but consistent characters to their knowhow.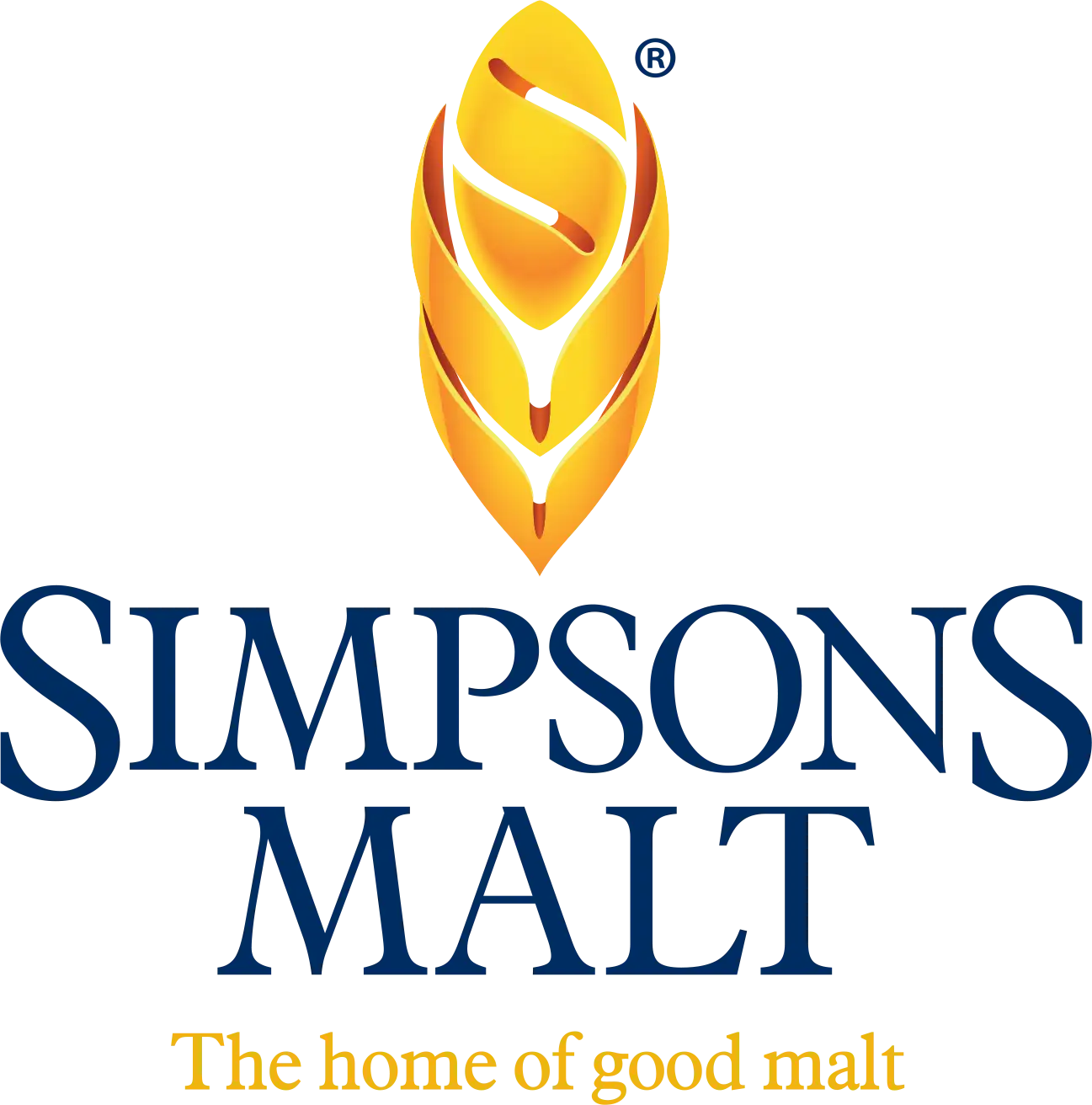 Simpsons Malt
Simpsons Malt is an independent, fifth-generation, family-owned business and Certified B Corporation. The company's passion is a focus on making malts with taste, flavour and consistently high quality with the world's best brewers and distillers in mind, helping them to craft the finest beers and whiskies.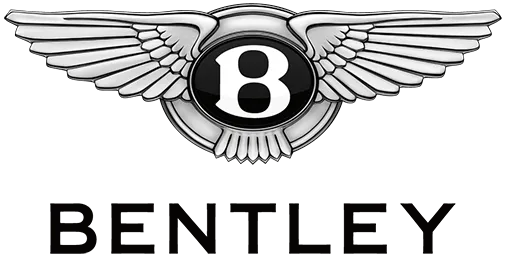 Bentley Motors
Bentley Motors is the most sought-after luxury car brand in the world. Headquartered in Crewe, England, Bentley produces five model lines through a combination of fine craftsmanship, engineering expertise and cutting-edge technology. Bentley Edinburgh, official Bentley retailer, is proud to support this year's Distillers One of One auction.
Our 2023 Travel Partners
We have partnered with two of Scotland's premier luxury travel companies. Each partner is a specialist in their own field and will help make your Distillers One of One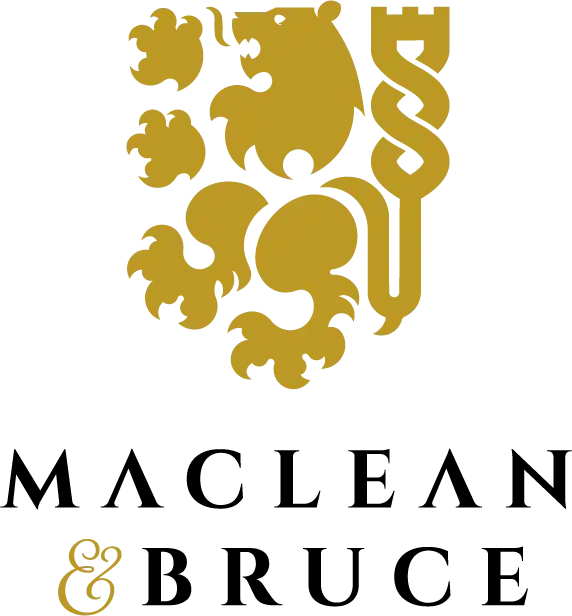 MacLean & Bruce
MacLean & Bruce offers luxury whisky travel experiences in Scotland by partnering with top-end properties, luxury transport providers, private chefs, and the whisky industry to give truly outstanding services to guests.
Bravo Whisky Golf
BWG will meticulously curate every aspect of your auction week. Compliment your whisky adventure by indulging your other passions, ensuring a personalised and unforgettable experience for those who enjoy the finer things in life.